WeBlog! A name that quite a few of you are acquainted with, I'm sure. They were all over Facebook last month, sending add requests to all the bloggers they could find, days before their site even went online! With promises of bringing some kind of revolution in the Blogosphere and asking everyone to "get registered" with them ASAP, they eventually went alive with just a blog to show (probably hosted on blogger from the kind of template they had), and a ".co.cc" free domain! (Personally, I think even 'blogspot' looks better than '.co.cc' in the URL!)

So anyways, I guess I have some inbuilt warning system. The kind of over-aggressive marketing strategy they used in their Fan Page reminded me of all those innumerable scam pages claiming to give away FREE FarmVille stuff!

Moreover, they were asking all the bloggers to submit their blog links, so they could select "a few lucky ones" for an interview on their site, which did not even exist till then!!! And the amazing thing was that people actually signed up for this! I mean, are we all so desperate for fame that we'd even love to be interviewed by a non-entity? WeBlog had no existence at that time other than their newly created Fan Page on Facebook! And yet people were eager to be interviewed by them!

So anyways, they got a lot of following because of the interview stint, and eventually went online with a handful of interviews to display on their .co.cc blog! And in exchange, they had over 700 naïve bloggers linking back to their site through their forced "registration" process! 700 bloggers linking to a site that offered nothing useful to them in return!

"Oh but it did! They 'blog-rolled' us in return!"

Well, just for information, that kind of blog-rolling doesn't really add any value to your Page Rank. On the contrary, that kind of irrelevant linking can actually create a negative impact on your PR. They are not maintaining a proper blog directory on WeBlog, the way IndiBlogger, Blogadda, BlogRama etc. do. It's just a list of several hundred links in their sidebar, unrelated to each other in any context. That kind of link resource actually comes under "Link Farming", or in simpler terms, "Link Stuffing", and Google strictly hates it! In fact, most search engine algorithms will penalize you for linking to such a "link farm"!


But, if you are like me, who doesn't really care much about PR, but would just like to have more readers visit your site, then also, such a "link farm" is of no use to you. Tell me honestly, would *you* scroll through a list of several hundred links that aren't sorted in any order or category, to find a blog that you might like to visit? Not really. So how do you except any of the other visitors on that apparent "link farm" to find your link from the hay stack and visit your blog? Kind of illogical, isn't it?

Anyways, right after the interview, they came up with a Sleepy Sunday Contest. I thought maybe they might have something up their sleeve after all. Even though their start was pretty shabby! So I left a comment on their contest announcement post, asking about the prize. IndiBlogger, BlogAdda etc. always declare the prizes at the time of *announcing* their contests. Well, I never got a reply to my comment.

Ahh but the main thing -- coming to their slogan now: "We Socialize! We Win! We Care!" That's what their logo says. And they have kept up this charade of creating a "useful community for bloggers" since their inception. But there is so much discrepancy in their words and actions!

When I was about to start Kadzilla's Lounge, I had left a message in various blog forums, asking bloggers of specific categories to write to me if they'd like to contribute. Clearly, such an interaction is solely for the benefit of the blogger community. And any entity proclaiming to "Care" for bloggers would recognize its benefits for the bloggers, and encourage it with full support. But WeBlog actually banned me from their page instead! Just for posting a notice, that a certain category of bloggers could showcase their work on a new ezine if they wanted to!

Here, take a look at this screenshot… Vignesh asks for some advice, and, like Paul, I also gave him some general tips. You can see his "thanks" to my tips (the 2nd last comment from the bottom), but you cannot see my comment, can you? That's because I have been banned from the page. I took this screenshot from my Dad's account actually; in my own account, I don't even see the comment box at the bottom.



Those of you who read my review of IndiBlogger would know that IndiCops also misunderstood initially, and removed my post from their forum, but when I wrote to Renie, he cleared it up within minutes and re-activated my thread. But WeBlog! Haahh! They even blocked me from their personal account "Web Logger", so that I couldn't send them a message directly! And then they say that they "Socialize", that they "Care"!

Well not a problem! I have a total of six accounts on FaceBook, for sending gifts in FarmVille you know! So I logged in from Dad's account, took the screen shot pasted above, and then left this comment, and took a screen shot of this too…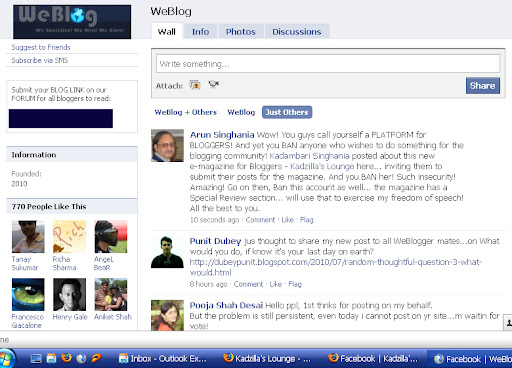 Now, if it had been a mistake on their part, they would have most certainly tried to get back in touch with me ASAP, by sending me a direct message or by commenting on this post! But no! They went ahead and banned Dad's account too, just like I'd expected! Here, see this third screen shot… Dad's post should have come after Punit Dubey's post, but it's not there!



And they say that they "Socialize", they "Care"??? Maybe the meaning of these words has changed since I last checked a dictionary (which was just a few minutes ago, by the way)! I really don't know.

Anyways, I honestly have no clue why they've singled ME out of all the 700+ odd people! And it's not even just the above mentioned incident, but it's like they've been following my page on FB right from the day I created it!

When I created the FB page for Kadzilla's Lounge, I disabled link-posting by non-admins to avoid spam. Their page had allowed it originally, but the very next day when I visited it, I found it disabled there too! Could have been a coincidence, no doubt.

Then after our first issue went live, I made a post on our page's wall about the slideshow giving problems, and that I would be replacing it with a different code. Guess what! Next time I visited their site to check on the contest announcement post, they had a slideshow there! Most certainly another coincidence, right? :D

And then I made this post on our FB page that everybody could start sending in their contributions for the next issue. Haah! And they immediately came up with their "Featured Post" adaptation of it! So many coincidences! Amazing! In fact, our minds seem to work so alike, I'm actually beginning to wonder if somebody made a clone of me when I was born… or if I lost a twin-sibling in the Kumbh Mela! Naah! My Dad just denied both the possibilities.

So then, what do I do now? I still have 4 other accounts on FaceBook that are not yet banned by them. [Gives an evil grin… and a wink to go with it!] But frankly, I don't have time, and besides, I couldn't care less about what they do. This post had to be published because bloggers had to be made aware of the difference between good linkbacks and bad linkbacks.

If WeBlog is so insecure about their own capabilities and skills, that they have to resort to "eliminating" deemed competition (???), then I wonder how long they will last anyway!

In fact, the most amazing thing in the entire episode is that they feel insecure of Kadzilla's Lounge! Haah! Insecure of a student's project in web design! Wow! I guess I should feel honored, right? Well, perhaps I would have been, if they'd simply left a "nice work there" on the Lounge's page, instead of banning me!

Oh anyways, this post turned out to be longer than I'd originally intended! So I'll just end it on this famous tag line of Sprite: "Dhikawe pe mat jao, apni akkal lagao!"

And by the way, I'll be doing a proper review (with both 'cons' and 'pros') on WeBlog in the up-coming issue of Kadzilla's Lounge. We have an exclusive section in our "Review Bench" for such crappy experiences! (Ok, sometimes there are exceptionally good experiences also that we can blog about.)


Also, this incident made me realize that the magazine needed a section exclusively for bloggers, to make blogging a more enriching and rewarding experience for them. For that reason, Kadzilla's Lounge will be starting a new section from the coming issue – "Blogosphere". So stay tuned… the next issue coming up on August 15th! And I have to rush now to tend to my farm… :P





(Continued below sponsored content)


Let me know you visited me. Leave a comment!

And if you enjoyed reading this post, then please SHARE it. You can use the following buttons for sharing. Thank you! :)
Sign-up for my FREE Weekly Email Newsletter
Get all my updates directly in your inbox.
Get tips, ideas, humour, & recommendations.
Get your weekly dose of inspiration and positivity.
Get

Exclusive BONUS Stuff

every month!
"One blog that I keep coming back to! Witty, introspective, fun, insightful..." - Amrapali Dixit